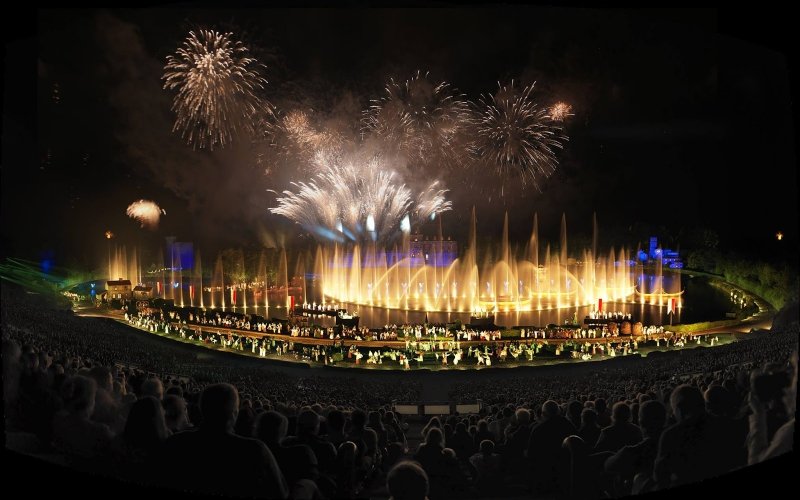 The Puy du Fou, internationally famous!
The Puy du Fou won the price of the best theme park and it is located only 1h15 from your campsite! The park offers several shows that you won't forget!
Les Mousquetaires de Richelieu
Experience an exciting adventure including sword fights, flamenco dancing and capering horses. Set in a monumental 17th century theatre, the musketeers will transport you back in time for an astonishing swashbuckling show.
Le Signe du Triomphe
Experience the frenzy of the Roman Circus! To save their lives, the Gaulish prisoners must win the circus games in front of the Roman governor. Are you ready? Take your seats in the Gallo-Roman Stadium and prepare to be transported by the intense atmosphere.
Les Vikings
Tremble at the sight of terrifying Viking warriors launching their attack! Emerging from their longships surrounded by gigantic flames, the ferocious Vikings attack the peaceful Fort de l'An Mil with its thatched roofs. At the foot of a 22 metre tower, the battle rages on in a deluge of special effects.
Le dernier panache
Puy du Fou has never seen anything so big! Follow the glorious destiny of a French naval officer – a hero from the American War of Independence – whose life will change dramatically in 1793, in a last fight for freedom! A breathtaking spectacle, this epic and moving story is told in the only production of its kind in the world.
Le Bal des Oiseaux fantômes
Aliénor awakes in the ruins of the old château and her memories make the falcons, owls and vultures emerge, skimming past your heads with their enormous wings.
Le Secret de la Lance
Experience a medieval adventure on a grand scale. After the knights' departure for Orléans, Marguerite, a young shepherdess, remains alone at the château. She will need to discover the secret of a lance with amazing powers so she can protect the enchanted ramparts of the château in the midst of a battle.
And many more…
La cinescénie
Seen by over 12 million spectators, this show involves 2,000 actors on a stage spread over 23 hectares and 24,000 costumes. Lasting for 1 hour 40 minutes, it includes many new attractions. The world's biggest night-time show has become an absolutely unmissable and legendary experience. Over the last few years Cinéscénie has reached a new level, with many innovations: new lighting effects, new 3D video projection, and new sets have combined to create 10 new scenes in 6 years with new special effects. Cinéscénie is a sight to behold!
Source: official website