Faites votre devis et réservez en ligne en toute sécurité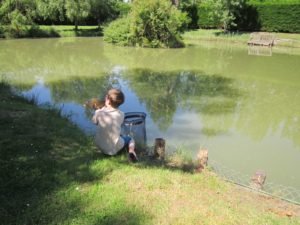 Eco-camping in the Vendée with a fishing pond inside the campsite is accessible to all campers and people with reduced mobility. Our fishing pond is closed and children do not have access to the road for their safety. All campers must be vigilant and close the safety gate before leaving the site.
Fellow anglers and nature lovers, in spring you will see many fry wriggling in the translucent water in the absence of rain. Later in the season, you will discover ducklings just out of their shells following their mother duck and occasionally their father duck!
A fishing campsite !
Fishing is free but don't forget your tackle and bait. Corn, strawberry "Tagada" or the traditional earthworm are the favourite baits of our fishing enthusiasts.
In the pond you can find carp or eels depending on the season.
We advise you to contact Frédéric if you wish to learn more about this "art".
This service is rare in campsites so go for it!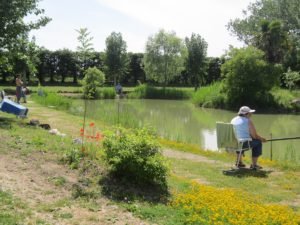 From 1st of April to 15th of October you can fish for free in our fishing pond. It is not necessary to obtain a fishing licence as our pond is private. We take care of its annual maintenance and count on our visitors to respect it.
Carp, eels and other species
For 18 years we have been preserving our pond by respecting the natural fauna and flora.
You will be able to see :
Wild ducks
Wild rabbits
Water hens
Hedgehogs
Coypu
Carp
Herons
Egrets
Eels …
I leave it to you to observe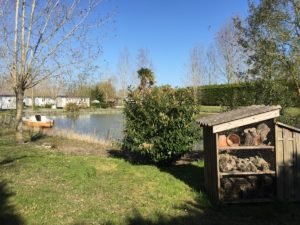 The children enjoy feeding the ducks and you can relax or have a family picnic and fish together.
Picnic tables and grills are available around the pond. You can enjoy relaxing moments for lunch or a snack with your family.
Willow, Poplar, Cypress, Reeds allow you to respect a pure aire without pollution, without pesticides..
Your campsite in the Vendée has the Clé verte label / Key green label and offers you responsible holidays. Since 2010, you will have the possibility to fish in the pond for unforgettable moments. The promotion of the region is one of our values. We can advise you on how to discover the Vendée coastline in the best possible way, whether on foot, by bike, on horseback or in a Yole! Each way allows you to discover our landscapes in all seasons in the best way and in a pleasant way.
Maps and itineraries of the walking and cycling routes are available free of charge at the reception on request.
Camping with services / services camping / camping services
Campsite for fishing in Vendée !
Fishing is free, bring your favourite fishing tackle and bait! You can fish for carp or eel depending on the season.
You may be lazy and have a family picnic while doing some fishing.
There are grills and picnic tables available around the pond. Children also enjoy feeding the ducks.
Recreational fishing pond for your campsite near Saint-Jean-de-Monts in the Vendée.
If you want to know more about your passion, we can give you the contact of Frederic, a fishing guide,
This activity is privileged on the campsite and allows leisure activities for the whole family!