Buying a mobil home in France, is that interesting ?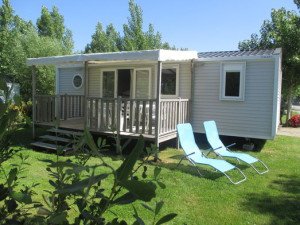 Buying a mobil home in France could be a good ideas. The purchase of a mobile home is a question that comes up often. Is it profitable for the holidays? What do we get from buying a second home? On the one hand we will see the many advantages to buy a mobile home in a campsite. On the other hand, we will see the conditions to be taken into account in the purchase of a mobile home.
A very interesting price
Indeed, compared to a second home on the seafront, it is very easy to become a mobile home owner. In our campsite we offer different ranges of used mobile homes new. Fully equipped and installed, with a wooden terrace , we propose to become owners for a budget ranging from 7900 to 35000 euros. In these price ranges you will have new or used mobile homes but also 3 bedrooms and 2 bedrooms mobile homes  ideal for families. Note that the mobile homes are already installed, there is no shipping and set up fees  in the campsite that can quickly raise the bill. To compair, an apartment near the sea may cost you much more expensive with sums above 100,000 euros for the most part. Moreover the apartments will include co-ownership fees as well as notary fees during the purchase. Becoming owner of an holidays place becomes easier for you with the purchase of a mobil home.
A comfortable holidays home
Indeed, the mobil homes today are very comfortable. The equipments, especially in the kitchen allow you to live like at home. In addition, the bedding is also very good and allows you to enjoy your holidays in campsite. Mobile homes are functional and very practical for spare time use. We guarantee you that these holidays homes are the guarantee of the success of your trip closer to nature.
Someone take care of your mobile home when you are not present
There is another advantage that shows the interest of this type of dwelling. The mobile home in a 4-star campsite is the guarantee of a permanent guard during the opening. Indeed, since the campsite is maintained, the owners and employees of the campsite can monitor your mobile home. In case of problems, the secondary house requires you to take the car yourself to see on site any damage. A mobile home in a campsite allows you to be reassured in case of inclement weather for example.
You can rent your mobile home
Another advantage that allows you the mobile home, rent it in high season when you can not go on vacation. Several studies and documentaries speak of a possible profitability of rented mobile homes. However, the real profitability is when you use it personally. By paying the annual rent for your location and going on holiday regularly it becomes very profitable. Nevertheless, the renting in itself makes it possible especially to offset the expenses which engages the mobil-home which is already interesting when you can not profit by it yourself. Each campsite offers or not specific terms of subletting. These are indicated on the information leaflet given to you by the campsite.
You enjoy the camping equipment
An indoor heated pool, a pond, a grocery store nearby … add all these points to a secondary house and the price will explode. Especially for your grandchildren, Mickey Mouse Club, carousels in Saint-Jean-de-Monts, quickly increase the budget of your stays. Thus, the fact of gaining in the purchase of a share and having on the other hand services in-house allow you a holiday full of activities at lower costs. For a mobile home camping, it is different, you enjoy all the equipment and services of the campsite. Returning from the beach, you can enjoy the pool or the water that we have at Campsite Le Domaine le Jardin du Marais. Finally, you can enjoy a pleasant setting with a campsite in the heart of the Vendee marsh.
You enjoy the summer activities of the campsite
Shows for children, entertainment and activities … by buying in a campsite you are also welcome in the camping activities. In a secure area your children will enjoy entertainment inside the campsite and this throughout the summer season. In addition, you yourself can participate in these animations. The Domaine le Jardin du Marais is an eco-friendly establishment labeled green-key, it offers original activities on the environment respect allowing all to learn more about ecology.
An easy maintenance
Thanks to its size and type of home, the mobile home does not require you to a long and tedious household on your arrival for your holidays. Do not waste an afternoon or even a day in the household and save time with the mobile home. Especially at the campsite Le Jardin du Marais, we offer a cleaning service. Thus, you can ask that your mobile home be washed before your arrival so that you do not have to take care of it.
Buying a mobile home in France = No local taxes to pay
Local taxes are sometimes a reason for refusal to invest in an apartment. However, with mobile homes you do not have to pay local taxes. Again a saving made compared to the residences of vacances.
 Traps to avoid before buying a mobile home in a campsite.
Even if the purchase of mobile home have many advantages, it is obviously necessary to take some precautions. First, check the external condition as well as the interior. Sometimes, some mobile homes have a beautiful frontage but hide problems. That is why we advise you to buy in a campsite because the mobile homes are controlled and maintained. In addition, check with the campsite policy in which you invest. Indeed, some campsites have a policy to renew their rental every 5 or 10 years. Thus, it is possible that you are asked to leave because of a too old  mobile home even if they are in good condition. At Domaine le Jardin du Marais, our policy is not this one. We want to retain and keep our owners regardless of their home as long as they maintain.
If you want to buy a mobil home in France at our campsite, let see our mobil homes !
About to buying a mobile home in France at campsite Le Jardin du Marais
The opening period is from April 1 to October 15 with the use the heated indoor pool from mid-April to the end of September
The rent depends on the size and location of each location. Rents vary from 2787 to 3124 euros for 2019. This rate includes 6 people and a water and electricity package (enough for leisure use)
To the rent is added, the Vendée water tax, the garbage tax and the task stay of the Community of Commune Océan Marais de Monts.Maintenance is offered to you optionally in complementary service as well as the possibility to accomodate your domestic animal.
No conditions of duration for the renewal of the mobil-home subject to a maintenance ' as a good father '.
No housing tax nor local taxes nor notariales.
you must think to ensure the mobile home and so inquire with your insurer.