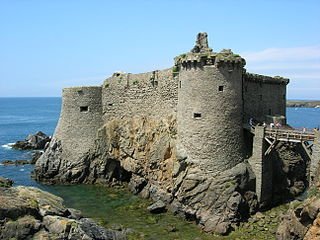 Yeu Island for your holidays
It is undoubtedly one of the most beautiful islands of France and welcomes every year many tourists. The unspoilt nature will leave you with an unforgettable holiday memory. With its castle, beaches, coves and walks, it is a must for a holiday in the Vendée. But how and where to take the boat to the island of Yeu and what are the activities that can be found there?

How to take the boat to Yeu Island
To reach the Ile d'Yeu, you must first go to the Barre-de-Monts Maritime Station to take one of the ships leaving for Ile d'Yeu. With only 340 passengers on board, the two high-speed vessels, the "Pont d'Yeu" or "le chateau" ensure you a great comfort. It is obviously necessary to book fairly quickly during the most tourist periods. It will then take about 35 minutes to leave for La Barre-de-Monts towards Port Joinville. The duration of the trip is variable depending on the tides. Your campsite Domaine du Jardin du Marais is a partner of Yeu Continent. We can advise you and make the reservation of your crossing. A special offer return trip is offered at the reception of your campsite. You can park your car for free on a car park reserved for the passengers of the company.

What activities in Yeu Island?
On the island, several activities on the theme of nature are proposed to you for holidays respectful of our environment.First, the activity "Fishing road! Outing ornitho with bicycle" proposes to you to discover the species of birds which coast but also to stroll along the sea by learning the authentic practices of traditional fishing. This activity lasts 2:30 and the meeting point is at the Port Joinville Boat Le Corsaire.
Next dates:
Wednesday, April 3 at 2:30 pm
Friday, April 19 at 2:30 pm
Friday, May 17 at 2:30 pm
Wednesday, May 3 and 17 at 2:30 pm
Thursday, August 29 at 2:30 pm
Wednesday, September 25 at 2:30 pm
The Tourist Office of Ile d'Yeu also offers other activities including outings "Fishing with the family and discovery of the foreshore". You can then enjoy nature and learn to fish by respecting the templates and promote sustainable development.
The next dates:
Thursday, April 11 at 14:30
Friday, May 3 at 10:30am
Saturday, June 8 at 2:30pm
Wednesday, July 10 16h, Wednesday, July 17 at 2:30pm and Wednesday 24 July at 3:30 pm
Friday, August 2nd and 16th at 10:30 am
Wednesday, August 7th at 3:30 pm
Tuesday, August 29th at 10am
Tuesday, October 29th, 10:30 am
Domaine le Jardin du Marais is a partner of the company Yeu Continent you can book within the campsite your places to visit the island of Yeu. Attention, do not wait for the last moment, the number of places being limited for each departure. Schedules differ each day, taking into account the tide and coefficients of each day.
Tarif 2019 Camping Partenaire :
Return trip crossing :

29,00€

instead 41,10€
Children between 4 and 18 years old :

18,40€

Children – 4 years old:

4,50€
Book a Mobil home or a pitches for you next holidays in Vendée
Vous serez peut être intéressé par...