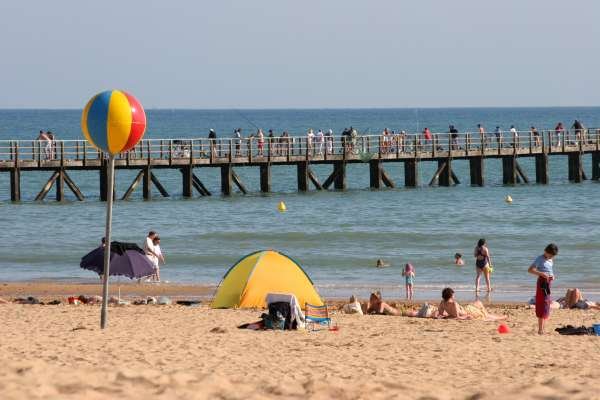 Camping Saint Jean de Monts 4 stars
Saint Jean de Monts Vendée largest beach
Your campsite's Le Jardin du Marais is 5 minutes from Saint Jean de Monts beaches
Seaside resort par excellence, Saint Jean de Monts is particularly suitable for family stays embellished with entertainment for all tastes.
Saint Jean de Monts organizing a multitude of events and activities, is the ideal place for a successful holiday.
Its location is exceptional. On a dune of more than 25km, the resort is at the heart of the Pays de Monts, planted pine, offering miles of trails with direct access to the coastline.
The beach of Saint Jean de Monts makes its fame:
8 km long, it is particularly reassuring for swimming younger. Indeed, with a minimum slope, funds are shallow for several hundred meters. Its gently sloping offering no obstacle to the waves, there is very little waves, it is rarely rough. Also at low tide, the tide goes out far and allows the practice of sports of all kinds, including yachting.
Saint Jean de Monts: a village resort
Saint Jean de Monts offers two faces: an old village sheltered by the dune and behind the resort and its famous animated embankment throughout the summer.
The village has existed since the fourteenth century as evidenced by his church, the oldest building in town. In 1862, it will be necessary to stabilize the dune to protect the town from flooding of the sand.
As on all the French coast, the fashion of sea bathing, the extension of ferrovières lines to the coast and the phenomenon of paid leave has led to a massive increase of vacationers. But if the neighboring towns see villas decorate the beachfront villas on St. John of the early century Monts remain behind the dune. It was not until the 1970s that real estate developers shall adjust the embankment to accommodate the thousands of vacationers.
The city will sell the usufruct of thousands of hectares of forests in many summer camps in the Paris region, many of which still exist today.
Saint Jean de Monts: Some events all year
With its attractive capacity with a unique accommodation park, the city offers visitors a very supplied entertainment program throughout the year including the Palace of the Congress Odysséa with exhibitions, fairs, workshops, performances multiple themes. Each holiday a special program is offered for children and a waterfall of sports events make to Saint Jean de Monts a bustling town from spring to stay.
Places sporty nature event program
During your walks, you can admire the heck, statues "seabird" Martel brothers and famous "the bather Henry Murail.
Facilities Saint-Jean-de-Monts:
La Ferme du Vasais – Media Library – Palace of Congress Odysséa – Thermes Marins – Hippodrome Atlantic – Nautical Base with sand yachting, catamaran, kite surfing, optimist – Océabul Aquatic Centre – 18 hole golf course – Casino
Camping Le Marais Garden 5 min Saint-Jean-de-Monts, the ideal place for your stay.
Book your mobile home in Saint Jean de Monts
Camping Saint Jean de Monts, rental st jean de monts, 4 stars campsite st jean de monts